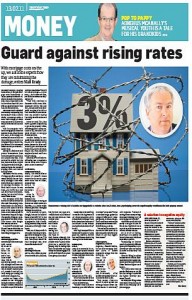 We were pleased to get a mention in the Sunday Times article by Niall Brady on the topic of rising costs:
Irish Mortgage Brokers: Deeter has opted for Permanent TSB's 10-year fix of 4.5% for the new
home he hopes to move into in six weeks' time. This is the best long-term fix available, although it will cost considerably more than the tracker loan on Deeter's current home.
It is a Bank of Scotland (Ireland) mortgage tracking the ECB's 1% by a margin of 1%. Lenders no longer offer trackers on new mortgages, forcing borrowers to commit to fixing or take their chances on a variable rate, which lenders are free to manipulate. "I would have fixed for longer — 15 or 20 years — but banks won't allow you fix for more than 10 years," Deeter said.
"They will continue to increase variable rates, independently of what the ECB does, because they need fatter profit margins to be able to lend. The ECB will raise interest rates too, probably starting later this year with an increase of 0.25%."
Deeter warned first-time buyers against waiting too long to get on the property ladder, even though house prices continue to fall, because of proposed changes to mortgage interest tax relief. Couples buying in 2011 qualify for tax relief worth up to €31,500 over the next seven years. Those who delay until 2012 will get a maximum tax break of €5,400 over six years, €26,100 less.
First-time buyer couples who wait until 2013 will get nothing. Deeter said: "They'd be better off buying now to maximise the tax relief, even if house prices are lower next year."