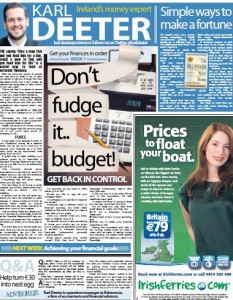 THE saying "Give a man fish and you feed him for a day, teach a man to fish  and you feed him for life" is a useful way to look at personal finances. After all, there are plenty of people who can tell you what to do, or give you advice to get you through the next day/week/month, but it isn't nearly as powerful as being able to take control
of your own cash.
This is the first in a series of pieces in which I'll break down financial issues to help you make better decisions.
However, if you're already struggling and can't make ends meet despite having done all you can, then you need professional help beyond what I can offer here. In this case, call MABS on 1890 283 438 or my firm Advisors.ie on 01 6339243.
Otherwise, the first and most fundamental step is to get to grips with your personal balance sheet. Ideally, the amount of money coming in will be bigger than the amount going out. If not, you'll have some rearranging to do.
It may seem a bit strange to think of your household money as a balance sheet, but my aim is to force you to examine your finances as if a third party, such as an accountant, was giving them an NCT.
A great way to start drafting your balance sheet is to download a Standard Financial Statement (we have one on our site for you at advisors.ie) and fill it in. This includes almost every expenditure you can think of, and if I've missed any you can use the additional list on it for any extra items.
Completing this will show clearly where you are right now. The next thing to do is  buy a small notepad, and for two weeks write down every cent you spend — and no
cheating.
A simple look at this will show you where you have the potential to make savings. In future weeks we'll look at getting better deals on annual payments such as house  insurance to save even more of your wages.
Just by taking these two steps you'll be on the way to a financially richer life as the Financial Statement will help you track your progress and the notebook will show you what you're doing day to day.
The third step is to decide what you want. Here you can be as ambitious or as conservative as you like, but remember that going too far in one direction will dramatically change your odds of success.
For example, do you want to retire before you're 65? Would you like to pay off your mortgage early? Or perhaps you'd just like to balance the books? Everybody has a different vision of financial success, but what really matters at this point is that you have a clear idea of your goals.
Once you decide what you want, make a detailed note of it. Be specific so you'll have something to focus your mind's eye on when you're making the sacrifices it will take to achieve it, because becoming financially independent generally involves sacrifice.
What about people who inherit money? Well, they don't "become" financially independent, they're often born that way. If, like me, you're in the other 99 per
cent of the population, it'll take traditional hard graft. To soften the blow I'm going to show you the way one week at a time. But for today you only have three small steps to make, and they are: l Fill out a Standard Financial Statement 2 Keep track of ALL of your spending, and 3 Write out, in detail, your financial objectives in life.
Having this foundation will help in the coming weeks when we take a close look at  ways of saving money and stripping out waste while getting getting you to the place you want to be financially.