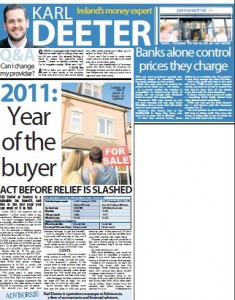 We were covering mortgages in this weeks Irish edition of News of the World, looking at the affects of changes in taxation and other aspects that could make the cost of a house rise even though the price may fall.
The price versus cost argument is not very well established, although we bang on about it continuously I think it would be fair to say that the majority of people focus on price over cost.
TAX Relief at Source is a valuable tax benefit, and this is the last year you can avail of it in full.
Come 2012, the scheme will be slashed — which could make a big, unwelcome difference to your pocket.
For each mortgage applicant, TRS is currently calculated on 25pc of the first €10,000 in interest you pay for the first two years of your loan. So, for example, a first-time buying couple get a mortgage of €300,000 on a five-year fixed rate of 5pc.
The 'interest' portion of this loan is €15,000 a year, which doesn't surpass the €20,000 level (of €10,000 per person x 2), so take that figure and apply 25pc of it. €15,000 x 25pc = €3,750.
Divide that by 12 (to get your monthly figure) and you get €312.50. So every month this couple will get a rebate of €312.50 for the first two years. While their actual mortgage repayment is €1,753 a month, the amount that comes out of their
account will be €1,440.50.
TRS goes down in later years, though — to 22.5pc in years three and four, and then 20pc for years five and six, but the mortgage equivalent this represents in the case above is about €55,000 in borrowing over 25 years!
So, should you buy now and perhaps 'overpay' to get the benefit? Due to changes in the Finance Bill, if you wait until next year to buy, you'll only get 15pc on €3,000 in interest.
That means the maximum a couple could obtain would be €75 per month versus a maximum of €416.67 now.

COSTS
Look at it this way — if you're considering buying a property, you have to factor in the costs, not just the price. In the example I quoted, if the couple were to wait another year and get a 10pc reduction on the property price, it wouldn't actually make sense
because the TRS boost they get this year would cancel out that price drop.
Irish Mortgage Brokers predict variable rates will rise at least 1pc and reach 5pc or more by next year. Some lenders have already done this, and the likes of EBS are going that way now. If this pans out, it'll be a double whammy, with tax benefits dropping AND interest rate costs rising.
Property prices may well continue to fall, but a recent survey in The Sunday Times predicted they'll hit the bottom this year. So what should you do?
With rents stabilising, now could be a good time to negotiate a long-term lease. If you don't have job security, buying a house is a lousy idea anyway. However, for those who do have the choice, the buyer still has the advantage. While obtaining finance is
hard, 2011 should see about 35,000 mortgage draw-downs in Ireland.
The most important thing to do, though, is fix your rate! A five-year fixed
rate looks best. With AIB's rates starting at 4.39pc, this'll protect from the variable rate hikes lenders have planned for you.