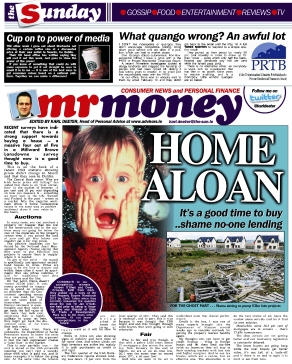 Recent surveys have indicated that there is a strong support towards buying a house, a whopping four out of five in a Millward Brown Lansdowne survey thought now is a good time to buy. This is on the back of a recent CSO statistic showing prices have didn't change in March and in Dublin that they rose (full spread here)
The Central Bank report 'Why are Irish house prices still falling' has stated that there is an 'over correction' in the market of between 12% and 26% depending on how you measure it– something we have seen in the UK, Sweden and Finland in the past – where as a market falls the negative sentiment drives it below fundamental values in the same way as positive sentiment drove it over value in the boom.
In many cases you can purchase a property for cheaper than the cost of the construction and in the auctions many are going for below the cost of the materials in the property (where even if you priced the land at zero and got free labour you couldn't get it for that price).
The positive headlines are furthered by the National Asset Management Agency (NAMA) stating that they want to put €2,000,000,000 into projects to ensure there is 'supply' where it is needed. To get to the point – the supply is specifically non-apartment second hand houses in cities. Cities are going to be the first to recover and within cities it won't be apartments that see prices stabilize, it will be traditional semi-detached homes and the like.
On that point NAMA doesn't 'creat 25,000 jobs', it uses money provided by taxpayers to spend on projects, no different than government spending money on a new road, but they are not some kind of 'benevolent patriarch'; NAMA's existence is questionable and they need to get back the full value of the loans they took over, something that is highly unlikely to occur (at best they might get back the discounted value of the loans they took over).
At the same time there are unknowns, the Department of Social Protection wants to lower the rents they are paying out – the argument is that rent supplement creates a 'false floor' in the market, this is only partially true, the rent is aimed at the 40th percentile meaning you can't rent a swank place with what is paid, and in many examples it is below the going rate – at the same time the tenants are not being asked to break the terms of their lease so it will be slow to change.
Rents in cities are also showing signs of stability and have done so for some time, and where yields are high investors are active but mainly it is cash purchasers as credit is still tight. The first quarter of the Irish Bankers Federation figures showed lending was down 19% from the final quarter of 2011. They said this is 'seasonal', and in part this is true because it was thought that TRS might end and that brought through some buyers that were going to wait otherwise.
What is fair and true though, is that with a paltry 2,630 loans (about 27 mortgages a day across the country) from January to the end of March, we are at an all time low. 2011 was the worst year on record since 1971, a 40 year low! And now we seem to be set to undershoot even that dismal performance.
Credit is the key, I was one of many experts brought into the Department of Finance several weeks ago to consider methods for getting the property market healthy again, my thoughts are you have to get credit flowing – bring in foreign banks and let them lend tax free (with no incentive they will stay in their existing markets with less risk and higher margins). And to use tax breaks, which are a cancer, but an effective one.
The alternative is to do the best choice of all, leave the market alone entirely and let it find it's own solution.
Meanwhile distressed homeloans are at double digits and almost 80,000 mortgages are in really bad trouble. The deep arrears are not getting better and our insolvency legislation is constantly delayed. The boom buyers are going bang while the bust buyers get better value, it's one hell of a trade off and if there is an end in sight it is hard to see from here.