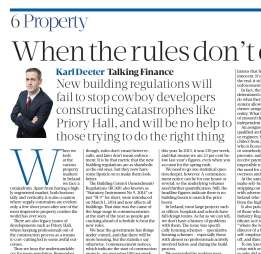 This piece originally appeared in the Sunday Business Post on the 9th of November 2014. The pdf of the article is available here.
When we look at the various property markets in Ireland we face a conundrum of sorts, apart from having a highly segmented market, both horizontally and vertically, it is also a nation where supply constraints are evident only a few short years after one of the most impressive property crashes the world over.
Added to this you have legacy issues of developments like Priory Hall where keeping professionals out of the process as a means to cost cutting lead to some awful outcomes.
And thus there is the natural cry for 'more regulation', but as always we must remember, rules of themselves don't create better results, and laws don't equate to enforcement. It is by that metric that the new building regulations are as shambolic as the old ones but they now have some lipstick on to make them look better.
The Building Control (Amendment) Regulations (BCAR)  also known as 'Statutory Instrument  No. 9, 2014' or just 'S.I. 9 for short, were introduced on 1st March 2014 and now affect all buildings. That introduction date was behind the huge surge in commencements at the start of the year, people brought forward start dates in order to avoid having to abide by the new rules.
We are told that the Government have things under control, that there will be more housing, but the statistics indicate that commencement notices (which indicate the start of construction) are averaging 100 per week this year, in 2013 it was 130 per week, we are about 23% below last year's figures even when you account for the pre-March rush.
There is a statistical exercise beyond this required because a commencement can be for one house or several so the underlying volumes need further quantification, but the headline figures indicate there is no 'building boom' to match the price boom.
In Ireland most large projects like offices, hospitals and schools have full design teams and inasmuch as we can determine, we didn't have a history of problems with them.
The issue was specifically housing schemes, speculative housing schemes, in particular those with almost no professionals actively involved prior to and during the build process.
So we responded by making regulations that affect everybody, even the innocent. It's lots of paperwork without any guarantee of better enforcement and nothing to stop a cowboy who can do what they did before because the system allows for a 'builder/building owner/assigned certifier' all to be the one entity.
What is missing is the guarantee of ensured third party oversight and independent audit.
One large change is the need for an 'assigned certifier' who oversees and signs off on each stage. An assigned certifier needs to be a qualified architect, building surveyor or engineer, but you could get an architect from anywhere else in the EU who is licenced to operate in Ireland, or somebody who is under financial pressure and push them to certify to receive payment – something near impossible to police.
At the same time these regulations make self-build virtually obsolete, stripping out about 800 houses a year, with adverse effects on people in rural Ireland who won't obtain any upside from the higher costs and regulations.
It also put power into the hands of those who are on the CIRI list (construction industry registrar Ireland) – the certificate as it stands includes the phrase 'where the builder says they are the director of a building company' so self-employed builders cannot sign off, and direct labour are disadvantaged.
To my knowledge we never had a crisis with self-build not working out, so why did we kill it off?
As for 'protection', here's the 'how to' to be a rogue developer. Simply set up a limited company and get a vulnerable engineer from abroad who is considered competent to run it, to do this you register with one of the organisations, the rejection rate is low, if you have the qualifications you'll likely get through the application process.
You then get that firm to do all the forms and certificates and once the units are all sold you shut down the company and fire the assigned certifier, there is nothing to control the directorships where the builder is the director of the firm doing the assigned certification.
The building control authorities claimed that would be a red flag issue that would alert them to do inspections, but a commencement notice is either valid or not, there is no 'project of concern' status.
The other issue is that if a building control authority doesn't get in early – to inspect at foundations, then they can't really inspect much at all, you can't un-bury foundations or open a wall to check for fire blocks, and there isn't any code of practice for what these inspections constitute other than a draft framework (this hasn't been agreed in full with the local government agencies).
Perhaps what we should really do is ponder why we are ranked 128th out of 189 nations by The World Bank when it comes to our construction process. Our neighbours in the UK are 17th.
We dropped 11 rankings in the last year alone, we now rank below such luminary economies as Algeria and strife torn Democratic Republic of Congo, but we are ahead of Bolivia (only by one place though).
In the OECD we are third last in terms of getting things done. Nobody can argue with the idea of better building being a good idea, but these regulations are simply more ruinous ingredients into an already badly baked cake.
A special thanks to the team at the BRegs Blog, and the builders, engineers and one architect who all chose to remain nameless in helping me research this article.